Contact me/order a painting
To order a painting....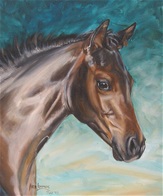 Contact me via email with a photo of your horse or pet, and I will see if I can paint it. I will then contact you to discusss size, and price. Once this is decided, you will be asked to send me a deposit of %50 of the commissioned work. Then I will start work on your painting. Once completed i will send you a proof of the work for your final approval. I will then arrange framing for you if reguired, and send you the work.

Any questions I am happy to answer if I can. I endevour to help you to "Preserve Your Memories"!

Regards, Karen.

I can also be reached on my mobile: 0418 877 300
The words you wrote are incorrect. Please enter again.